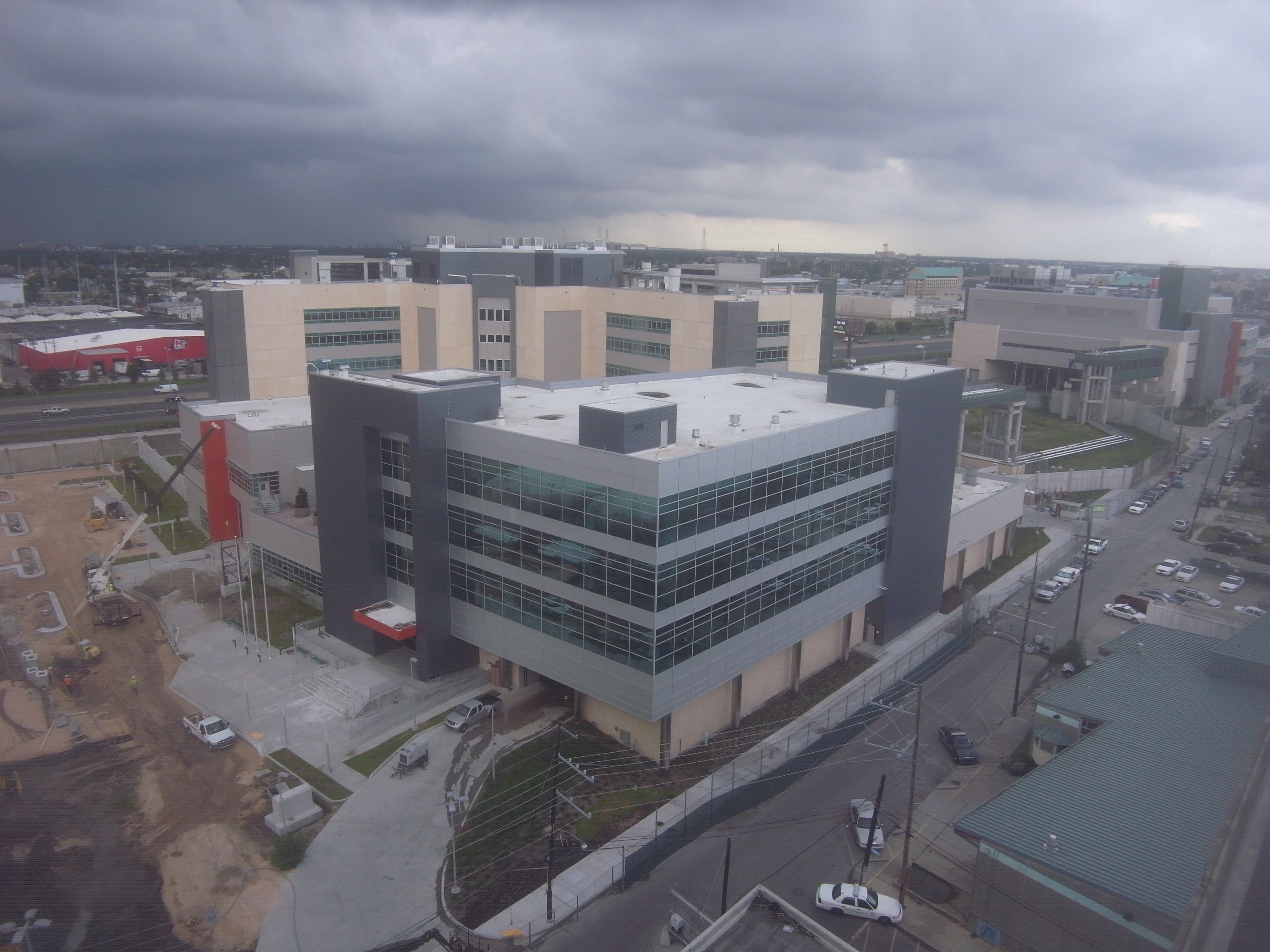 OPSO's Intake & Processing Center/Templeman III & IV Replacement
OPSO Re-Entry Program
NEW ORLEANS - 10-10-2015
OPSO employees and their families attending the Making Strides Against Breast Cancer event held last Saturday (October 10, 2015) at Champions Square in New Orleans. There was a great turnout and and everyone had a good time raising funds in the fight against cancer.
NEW ORLEANS - 10-6-2015
MEETING IN CHICAGO FOR TRAINING ON MACARTHUR FOUNDATION'S SAFETY AND JUSTICE CHALLENGE
Today, representatives of the Orleans Parish Sheriff's Office, the Mayor's Office, and other local criminal justice agencies will travel to Chicago as part of an ongoing strategic planning process for the MacArthur Foundation's Safety and Justice Challenge, an initiative aimed at reducing incarceration in local jails by changing the way Americans think about and use jails.
Despite growing national attention to the large number of Americans confined in state and federal prisons, significantly less attention has been paid to local justice systems, where the criminal justice system primarily operates and where over-incarceration begins. Jail populations have more than tripled since the 1980s, as have cumulative expenditures related to building and running them.
With funding from the Safety and Justice Challenge, the New Orleans delegation will attend a convening in Chicago with 19 other grantee jurisdictions working with expert consultants to develop a plan for local justice system improvement. A great deal of work has already been accomplished by Challenge Network sites and this convening will provide an opportunity to share progress, learn from peers, build capacity and prepare for developing an implementation proposal for the second phase of the Safety and Justice Challenge.
In May 2015, New Orleans was one of 20 jurisdictions selected to receive a $150,000 grant to create a fairer, more effective local justice system. The grant is a part of the Safety and Justice Challenge—the Foundation's $75 million initiative to reduce over-incarceration by changing the way America thinks about and uses jails. New Orleans has been using the support to continue its efforts to interrupt the cycle of incarceration by employing smart polices to minimize the use of local detention.
Read more: Orleans Criminal Justice Leaders Working Together To Right Size Jail Population
Victim Notifications & Programs
Crime Victims Programs
Victim Notification
ICE
Notification System
Crime Victims
Reparation Program
Elderly Victims
Assistance Program
Louisiana Victim
Notification System
Public Bids
Top Headline
Other Headlines
If you have a medical question about an inmate, call the Medical Inmate Advocate at 504-822-8000, ext. 4134.
The Medical Inmate Advocate is an experienced OPSO nurse who will investigate your concern and call you back. If you wish to provide medical information about an inmate, call the Medical Inmate Advocate. Medical confidentiality is maintained, but your concerns will be addressed.
Programs for Public Benefit
Harmony House
The OPSO Harmony House addresses the needs of parent, child, the courts, and the communities of New Orleans and the surrounding metropolitan areas by providing a safe, supportive environment for Supervised Visitation and Monitored Exchanges with equal regard for parent and child safety.
Young Marines
The OPSO chapter of the Young Marines is in partnership with the national Young Marines program. Youth under the age of 18 enroll for drill, games, field trips, and education.
West Bank Major Crime Taskforce
Deputies assigned to this task force focusing on major crimes and narcotics enforcement on the West Bank.
United States Marshals Task Force
OPSO also participates in US Marshal task force activities, focusing on the apprehension of violent criminals in the Greater New Orleans Area and monitors registered sex offenders in Orleans Parish.
The Great Body Shop
The Great Body Shop program is a school-based program which covers drug prevention, health, bullying, emergency situations, nutrition, and other topics for youth from kindergarten through twelfth grade. Materials and training are available from OPSO.
Sheriff Marlin N. Gusman's Supervised Visitation Center
This program is in partnership with Harmony House and provides non-custodial parents a safe drop-off and/or visitation area.
Juvenile Curfew Center
OPSO maintains the Orleans Parish Juvenile Curfew Center in conjunction with the New Orleans Police Department. Youth under the age of 18 are brought to the facility when they violate City of New Orleans curfew laws and are held in a non-secure environment until a parent or guardian arrives for them.
Elderly Victim Assistance and Victim's Assistance
This program is in partnership with the State of Louisiana Victims Assistance Board and provides limited funding and assistance to elderly or non-elderly victims of crime.
Drug Abuse Resistance Education (DARE)
DARE is a school-based drug awareness and prevention program for youth. OPSO's main focus is sixth graders through high-school.
Criminal Patrols
This program focuses on outstanding warrants for violent crimes. Persons wanted for violent crimes are targeted and arrested for public safety. This program is grant funded in partnership with the Louisiana Commission on Law Enforcement and focuses on proactive crime prevention in high crime areas and the apprehension of wanted fugitives.
Presentation to Mayor's Committee
Criminal Justice Working Group


City Council Presentation
2015 Budget Presentation